Richmond Retired Teachers' Scholarship Trust Fund
The RRTA Scholarship Trust Fund Foundation currently awards 30 scholarships to deserving students in Richmond's 10 Secondary Schools each year.
Two $2000 scholarships in the name of Jean Myron are awarded to each school.
One $1000 scholarship in the name of Louise Campbell is awarded to Steveston-London.
One $1000 scholarship in the name of the RRTA Scholarship Trust Fund Foundation is awarded to Boyd, Burnett, Cambie, MacNeill, McMath, McNair, McRoberts, Palmer, and Richmond.
The Directors of the RRTA Scholarship Trust Fund Foundation include:
Glenn Kishi
Donna Matheson
Jim McLeod
Pat Walach
Charan Gill
Don Lintott
Chair
Secretary
Treasurer
Director
Director
Past Chair
The Jean Myron Memorial Scholarship was made possible by a generous donation from the Myron estate.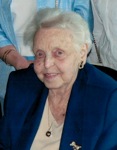 When Woodward Elementary School opened in 1961 the four room school had Jean Myron as Head Teacher. There is also a street in Richmond, Myron Court, named to honour her brother, Ian, who was killed in World War II.
Upon Jean's passing, the RRTA Scholarship Trust Fund was the recipient of a large financial bequest from her estate to provide Grade 12 scholarships to all 10 secondary schools in Richmond.
We currently present 2 – $2000 scholarships at each school – a huge legacy from Jean Myron.
The Louise Campbell Memorial Scholarship
Louise Campbell was a student in Richmond and graduated from Steveston Secondary School in 1965. Louise loved teaching and she completed both her both elementary and secondary teacher training and later taught in Vancouver and Richmond.
In 2001, as a memorial to her daughter, Ruth Campbell, a retired Richmond teacher and member of the RRTA, made a large donation to the Scholarship Fund.
The money is used to make an annual award of $1000 to a deserving Steveston Secondary School graduate
For additional information:
Contact Glenn Kishi  – gkishi@shaw.ca
Donation Form
Click the button below to download the printable Donation Form. Instructions for where to mail your donation are located on the form.
Download Donation Form