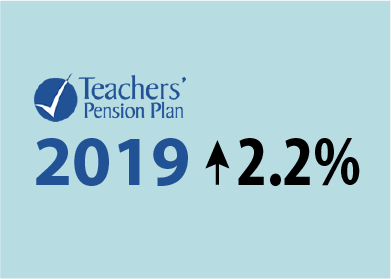 The BC Teachers' Pension Plan has announced a 2.2% cost of living increase for 2019. Cost of living increases are not guaranteed, but once received they establish a new baseline for pensions.
To see a recent history of annual increases, go to https://tpp.pensionsbc.ca/what-cost-of-living-adjustments-have-been-granted.
The pension payment dates for 2019 have been set as follows:
January 30
February 27
March 28
April 29
May 30
June 27
July 30
August 29
September 27
October 30
November 28
December 23
The BCRTA Pensions and Benefits Committee recently did an in-depth analysis of cost of living adjustments for BC retired teachers, and how teachers in BC fare compared to other provinces. You can view that report here.
https://bcrta.ca/wp-content/uploads/2019/01/TPP-up-2.2-in-2019.png
279
391
Tim Anderson
https://bcrta.ca/wp-content/uploads/2017/07/BCRTA-wordmark-75.jpg
Tim Anderson
2019-01-07 13:45:43
2019-01-07 13:45:43
TPP announces 2.2% increase for 2019