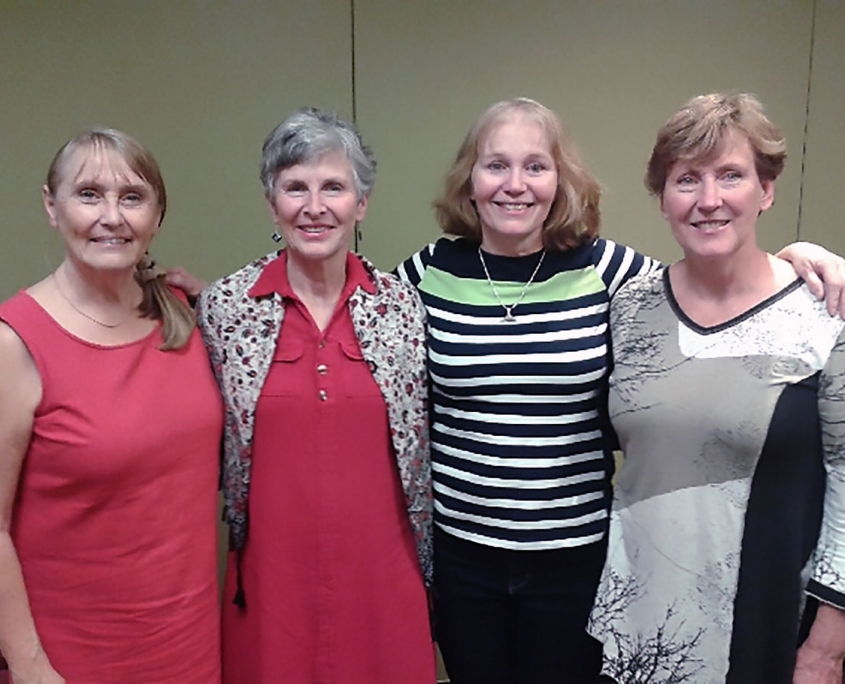 The Comox Valley RTA Executive: (left to right) Treasurer Linda Wilkinson, Social Director Sylvia Dakin, President Devon Deputter,  Secretary Judy Berry
Absent: Members at large Barb Angell, Lynn Hodge and Joan Southern
A Fresh Start
Sterling Campbell, a director of the BCRTA, and zone representative for the North Central Island shares some exciting news from Comox: The Comox Valley Retired Teachers' Association has been renewed!
The BCRTA has a significant history in the Comox Valley but, as sometimes happens, the local branch had experienced a low season in recent years.
Sterling reports, "Four years ago the former executive recommended that the branch be dissolved. I felt as Zone Director that it was time this year to revisit the establishment of the branch. I was fortunate to have the able assistance of fellow North Central Island zone director Stefan Cieslik. It is gratifying to be associated with such a dynamic executive who I'm sure will provide strong branch leadership."
The Comox branch will provide a local hub for the several hundred BCRTA members who live in the Comox Valley.
Congratulations to the Comox branch and special thanks from the BCRTA to Sterling Campbell and Stefan Cieslik for their initiative and leadership on this project.