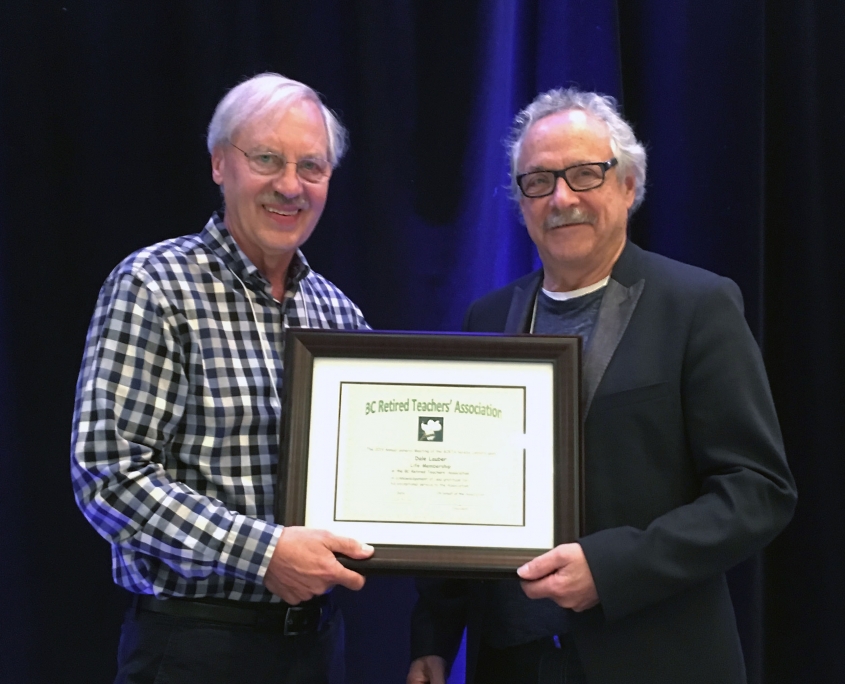 A highlight of the 2019 BCRTA AGM was the recognition of Dale Lauber for his many years of service to the association. Lauber was named a Life Member by the assembly, the highest honour conferred upon BCRTA members.
BCRTA President Gerry Tiede noted that Dale served on the Teacher Pension Plan Board of Trustees for some 18 years, first in his role as a pensions specialist with the BC Teachers Federation, and later as a retiree himself. All this experience proved invaluable for Dale's service on the BCRTA Pensions and Benefits committee for many years.
More recently, Dale served as BCRTA's representative on the board of the Canadian Association of Retired Teachers (ACER-CART).
Dale also teamed up with JoAnn Lauber to champion an intense lobbying action to protest the federal government's introduction of Bill C-27 which would erode the security of defined benefit pension plans. The campaign resulted in over fifty petitions being presented in the House of Commons, and Ottawa insiders reported that the constant attention to the issue was a factor in the government not pressing forward on their plans. The bill died on the order paper with the dissolution of Parliament, but Lauber warned the BCRTA that renewed attempts to undermine pension security are likely to made in the coming years.
Dale's acuity for policy and numbers is complemented by a spirit of bonhomie, a ready laugh, and a wide network of contacts developed over the years.
Delegates stood and applauded as Dale walked to the platform and received a certificate. In his comments, Lauber remarked that now his home office will be "balanced" with a Life Membership certificate on the wall over his desk that will match the Life Member award over his wife JoAnn's desk, an honour conferred upon JoAnn just last year. Among Dale's plans for the coming year are joining the BCRTA group departure to Morocco and Portugal in February 2020.
Thank you, Dale, for your outstanding service to our organization and to retirees in British Columbia and across Canada!